I've been told that you need to be prepared to burn a mighty hole in your hip pocket if you want to dine with me. By going to Vue de Monde, our city's finest French restaurant (according to this year's The Age Good Food Guide), I only seem to be proving the point. But before you say "gotcha!", let me explain that I went to Vue for their Lunch Menu. $26 for two courses and a glass of wine ($36 for three) at this year's "Best French" is value for money par excellence.
White tablecloths, sensible wine glasses, staff in ties and aprons, spells out loud and clear that this cozy corner in Carlton is a fine-diner, yet there are things that make it wonderfully down-to-earth, like the professional service, that's at the same time fun and unpretentious, and what's even more rare, "water" that can really be "just water". Not that I personally mind the "still or sparkling" school of formal restaurants, but I was most impressed to see a restaurant of this quality and class being so flexible to suit all markets.
The lunch menu comes in a leather file, with Menu Gourmand, Lunch Menu and à la carte options printed elegantly on translucent white paper slipped inside. Prime evidence that menus can be (and are, in fact) changed often, meaning it is reflective of seasonal availability of produce. I believe the document is much less heavy at dinner, when only the Menu Gourmand (a four to thirteen course degustation menu) is offered, and diners can discuss their preferences with staff and a suitable menu can be devised using timely produce. Many restaurants offer similar options, but not many dare to go as far as eliminating à la carte altogether. It would be most interesting (though also costly) to experience a fully-fledged showcase of this chef's talents.
Chef/owner Shannon Bennet is the lover-boy of the Melbourne restaurant scene. He's young, good-looking, has published a book, pocketed a few awards, and did I mention he can cook?
Nonetheless, wanting first only a taste of Vue, (and watching my student account) we stick to the Lunch Menu.
My entrée is a pumpkin soup with prawns. It is presented in the original vegetable, a dainty, golden, fist-sized version that is roasted and hollowed out, with two plump, lightly crumbed prawns resting gracefully on top. The consistency of the soup makes it quite filling, but is helped by the adequately small portion. It is also carries the distinctive flavour of cumin, and with the perfectly cooked prawns, add much depth and interest to a potentially everyday dish.
In between, we are offered a palate-cleanser, a shot-glass of tomato consommé and tomato jelly, with a pastille-sized basil sorbet on the side. We are told to first place the basil sorbet onto our tongues, and let it melt a little before drinking the consommé. Both the flavours are tremendously precise and intense, yet it truly manages to cleanse and freshen the palate. Amusing indeed.
I choose the duck confit as my main. It is served on a quaint off-white oval dish with a blue border, much like something my imaginary grandmother who lives in the French countryside would own. Though I'm sure this grandmother would need a good pair of glasses and a steady hand to be able to produce a bed of julienned vegetables as fine as this one. They are cooked to give them just the right amount of 'bite' on the teeth, retaining their freshness, and are tossed lightly in cream to finish. This combination gives the warmth and comfort of a gratin, without the heaviness, yet satisfies my desire for clean garden flavours. Given present-day society's fear of cream, it is uncommon nowadays to see vegetables cooked this way, but rest assured, the flourish of flavours and the smoothness that result are totally disproportionate to the amount of cream used. The duck confit itself, however, was not totally to my taste. There were no faults in the seasoning (the housemade five spice powder on the side was well-balanced), but the leg itself seemed a little dry, rendering it slightly stringy and tiresome in the mouth, although the flesh did fall off the bone easily. This comes as a surprise since confit, put simply, is meat treated with salt that is cooked and covered in fat (its own or otherwise usually of pork) and cellared, which, in my mind, should lead to a wonderfully tasty and moist meat.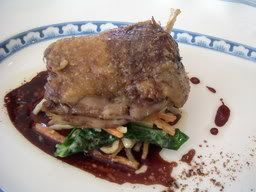 There is one dessert on the menu, which at first did not look very intriguing, but this warm halved peach with a vanilla ice cream swirl was a brilliantly refreshing end to the meal.
Well, it wasn't the end yet, really. Upon ordering coffee, we were presented with five different kinds of petits fours that are well worth trying even if it means it'll have your dentist screaming.
Lunch at Vue de Monde means a heavy discount for us financially, but on the food and service end of the equation, they're giving it 100%.
The French grammar in their name is a bit off, (it should be 'du' rather than 'de'), but who cares when their French food is this right.
Not only does Miss Food Brat know her French, she also knows a fine deal when she tastes one, thank you very much.
Vue de Monde
**MOVED**
295 Drummond St
Carlton 3053
Melbourne
Australia
+613 9347 0199
Open: Tue-Fri Lunch, Tue-Sat Dinner
New Address:
Normanby Chambers 430 Little Collins St, Melbourne
+613 9691 3888